The Advanced Infrared Biology Research Lab
Current News Releases
5 February 2015
A Nanosecond Tunable Laser to Be Installed in the Advanced FT-IR Lab
A state-of-the-art nanosecond laser will be installed on Monday February 9 at the NSF Advanced FT-IR facility located at 220H HBRC. This laser will be used in time-resolved rapid-scan FTIR, time-resolved step-scan FT-IR, cryogenic FTIR, and photolysis of caged ligand in proteins. This nanosecond pulsed laser (Nd:YAG) is tunable over a broad range of wavelength (410-700nm) and offer laser pulses in the UV (266 nm and 355 nm).

We cordially invite you to visit the new laser and to learn what the laser can do for research at 4:30 pm Monday Feb 9 (220H HBRC).
29 September 2014
OSU Advanced FT-IR User Facility: Open New Opportunities for Multi-disciplinary Research & Education
Dr. Aihua Xie, Facility Director, gave an OSU Microbiology/Biochemistry joint seminar on Advanced FT-IR User Facility.
10 September 2014
Dr. Aihua Xie designed and offers a new special course, Infrared Biophysics I, to train and engage students in using advanced FT-IR system for research. This course brings students to the forefront of FT-IR research, from literature studies to research design, FTIR experiments and manuscript preparation for peer-reviewed publication. Students are enthusiastic about this course. One travels 82 miles each week to audit this course. Some declared that they want to use advanced FT-IR for their PhD studies.
23 July 2014
Unique Infrared System at OSU Offers Powerful Research Tools
Oklahoma State University is now home to an advanced infrared (FTIR) system that is unique worldwide for being able to integrate an array of infrared technologies for multi-disciplinary research, including the fight against cancer.
13 September 2013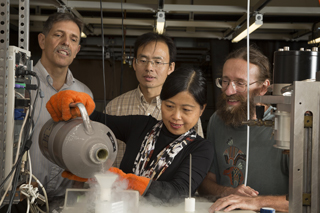 New instrument to enable cutting-edge biology research at Oklahoma State University
The National Science Foundation has awarded a three-year grant of more than half million dollars to a multi-disciplinary research team with 17 investigators for acquisition of a unique, state-of-the-art infrared spectroscopic and imaging system to establish a new research facility at Oklahoma State University.
13 August 2013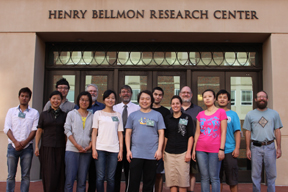 OSU Offers First Infrared Structural Biology Workshop
Oklahoma State University hosted the first Oklahoma Infrared Structural Biology Workshop at the Henry Bellmon Research Center July 29 to August 2.